Vision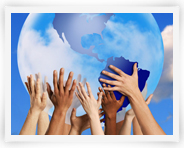 To provide professionally managed "One Stop True Global Logistics Solutions" with reliability / commitment / dedication to maintain and enhance the quality of services at realistic costs all under one roof with prime focus on satisfied customer.
Mission
We are committed to providing pro-active relationship services to our Clientele and encourage creativity and innovation. We appreciate optimum results can only be achieved by co-operating with each other in the pursuits of explicitly communicated objectives. We want to be winners, both individually and as an organization, forge and develop a mature partnership with our clientele and together face common challenges.
Values
FREIGHTWORLD LOGISTICS SERVICES.
provides services which are superior in quality and are appreciated the world over. Prompt and highly satisfactory, they are completely satisfactory.
FREIGHTWORLD LOGISTICS SERVICES.
provides excellent tailor made logistics solutions, utilizing latest global technologies to all its Customers. We take into concern quality at each and every step of our service. Right from cargo booking to the door step delivery, our services are of premium quality.
FREIGHTWORLD LOGISTICS SERVICES.
also looks after the budgetary estimates of clients so that our clients always receive the best service. All our services are aimed at customer satisfaction and we strive to upkeep the confidence of our customers in us with quality as our main forte.