Exhibition
Logistics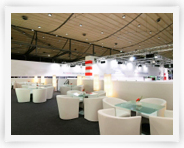 In order to promote Sales for products manufactured by different Industry verticals in their respective countries across the world , Various Trade promotion Agencies and Export Promotion Councils, Other Government Agencies organizes Fairs/Exhibitions at pre planned intervals at various venues across the world, For participating in these Exhibitions, Companies had to transport goods manufactured by them to these Exhibition/Fair venues , We had noticed the business potentials of this sector and put up a separate division with team of highly experienced professionals to handle the Logistics requirements of these Exhibition/Fair operators,
We render the below services :
Packing and unpacking of goods at Country of Origin/Destination.
Advise Exhibitors on the documentation requirement for obtaining ATA Carnets, Duty Exemption Certificates for clearing goods meant for exhibition without payment of Duty, Any other documents requirements at the Country of origin/Destination.
Advising Exhibitors on the Customs Clearance documentation requirements, Clearance procedures at Countery of Orign/Destination.
Advising Exhibitors on Municipal, Animal Quarantine, Plant Quarantine, Public Health, Drugs Controller requirements.
Transportation at Country of Origin/Destination.
After Exhibition arranging repacking and re-exporting of goods back to Country of Origin.
Completing all documentation requirements with regards to Customs, Municipal Authorities, All other agencies concerned.